MARK YOUR CALENDARS: 
Deep Creek Lake Art-Wine & Beer Festival — September 6-7, 2019 
Savageman Triathlon Festival —
September14-15, 2019
Autumn Glory Festival —
October 9-13, 2019
Garrett County Agricultural Fair —
(tentatively July 25 – August 1, 2020)
---
---
---
---
---
---
Note: Our list of events is being a little wonky this week. Click through to "Next Events" (at the bottom right of the events section) to see the full weekend, but, note the date. If you don't see the full list click "Previous Events" (at the bottom left of the events section) to see the complete list.
We have a support ticket with our tech team for this!
Jenny Wilson Jazz Quartet at Penn Alps
August 10 @ 7:00 pm

-

9:00 pm

$15.00
August 10, 2019 7:00 pm
Great Hall at Penn Alps
Jenny Wilson Jazz Quartet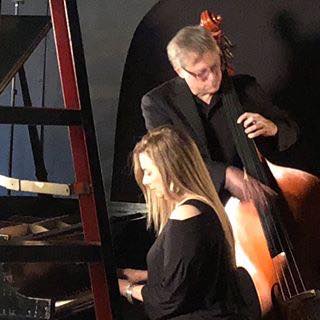 The Jenny Wilson Quartet plays original music and select jazz standards from the classic and modern jazz repertoire.  On piano and vocals, Jenny provides the focal point for the group with support from husband and bassist Nathan Wilson.  Jenny's original music has been compared to that of Wayne Shorter, Thelonius Monk and Bill Evans with hints of gospel and folk music in the mix. The quartet is completely and uniquely enthralling to hear.
Jenny Wilson is a composer, pianist, flutist and vocalist.  Originally from Queens, New York, Jenny is a graduate of WVU's Master of Music Jazz Pedagogy program and has toured in Switzerland, Austria and Germany. She studied with master jazz pianist Art Lande and was the winner of the Willie Maiden Award for Composition and Arranging while at the University of Maine.  Jenny's composing, warm vocal style and articulate piano playing have earned her a full- time career in music performance. This will be the second performance by the quartet at the City of Asylum. In addition to her music career, Jenny is now fulfilling her passion for visual art with painting. Her contemporary landscapes and abstract paintings reflect her joy in vibrant color and subtle line.  She was awarded a prize from the West Virginia Division of Culture and History for her painting "Broke Down Fences," juried by Kim Beck of Carnegie Mellon University.
Bassist Nathan Wilson is Jenny's husband and also performs with the Squonk Opera from Pittsburgh, PA. He is especially attuned to the melodic style of playing that is a key element to the group sound.  Nathan is also composing and producing soundscapes that accompany Jenny's painting exhibits.
Drummer Evan Lintz is Jenny and Nathan's son.  Evan has been drumming with the quartet for over a decade. He has been touring with jam bands and producing dubstep music while maintaining a freelance jazz drumming career in the DMV area.  Evan is featured on the quartet's recordings "What She Sang in Winter" and "Willow".
Related Events
---
---
---
---
---
---
Submit Your Event for Approval Here:
NEXT PAGE >>